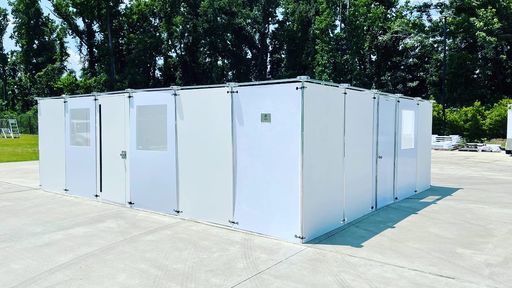 Have you made the decision to build a shoot house? Shoot house plans can range from large to very small.
It's not easy being law enforcement or military. The amount of training necessary is vital to ensuring their safety and the environments they protect.
Although they receive training during the academy or when they first join the military, certain types of training must be ongoing to keep these tactical teams sharp. You never really hear about this type of training, because most of it occurs in a shoot house to reinforce tactical training, target engagement, and other protocols they need to learn. Having the right shoot house equipment on hand can make a significant difference in the level of training that can be provided for these types of personnel.
What is a Shoot House?
While many people have never heard the term shoot house, they come in a variety of designs. A mobile shoot house provides a realistic approach to training using simulations and other non-live fire training. They are modular and easy to set up, allowing reconfiguration for a variety of scenarios. Weatherproof, it helps with rapid deployment and can be customized to mirror exact structures that may be a target. Being able to train in a shoot house that offers realistic scenario training could make the difference between being prepared and being vulnerable to outside threats.
Shoot House Design
When focusing on shoot house design, the first question should be, "What are shoot houses made of?" There are a number of solutions available, such as gravel or one constructed from tires. While these do the work, shoot house manufacturers provide pre-made steel shoot houses that can also provide a shooting range for law enforcement.
The goal of the design is to make the shoot house as realistic as possible. DVC Targets are made from high-quality ballistic steel and fit under a 3D target that often resembles a human being. It helps with realistic scenarios law enforcement and military officers often face and sets them up for accurate assessment.
Contact Kontek Industries
Having access to products and services that enhance your strategic and tactical law enforcement and military teams is important. Kontek Industries provides solutions for security and defense, critical infrastructure, and custom fabrication throughout the world. With their team having more than 150 collective years of industry experience to offer, agencies can maintain their training protocols through high-quality, cost-effective products and services.
Kontek provides some of the most advanced security solutions to protect personnel, equipment, and the world's critical infrastructure. For more information on how Kontek Industries can assist in procuring shoot house specs that will work for you, contact the team today!