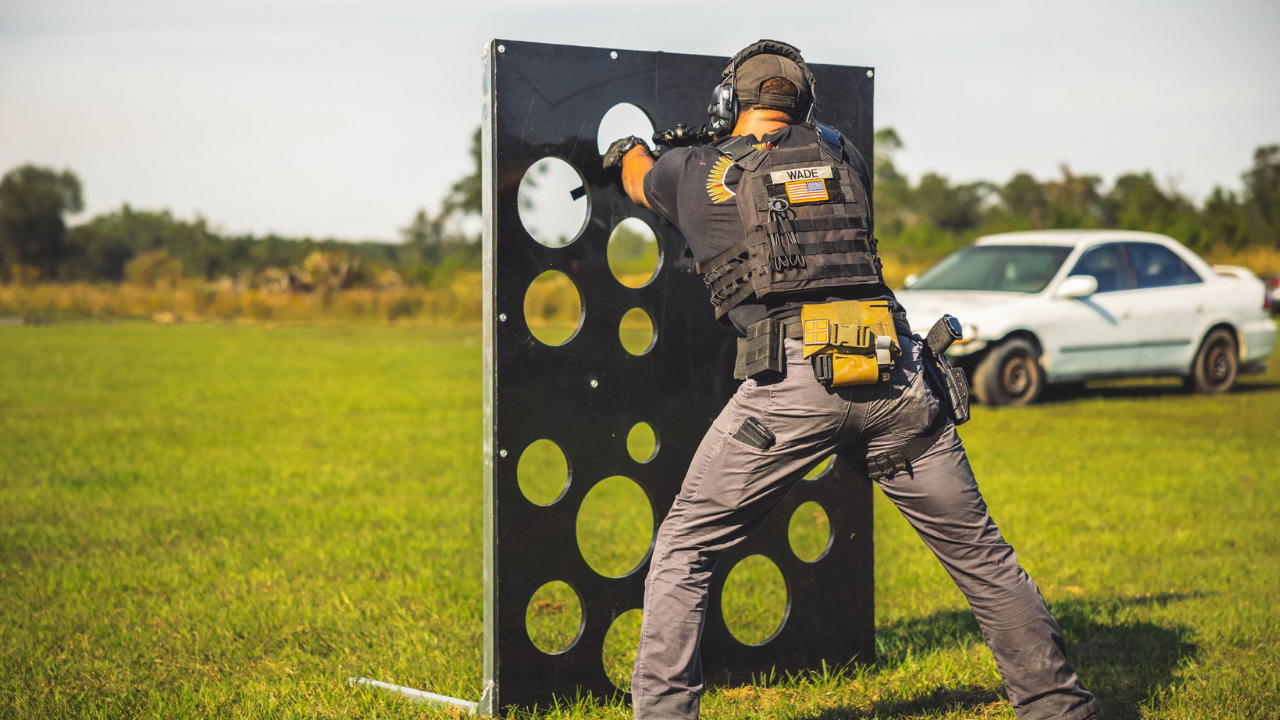 Security operators require not only good training techniques but also the proper equipment to prepare for various combat scenarios. There are plenty of tools that will enhance your range training and some are more impactful than others. We're here to highlight what you should look for when deciding on what to bring with you to the range. Whether you're a beginner or a seasoned professional, these tools can both sharpen your skills as well as your decision making.
Must Haves
There are some essential materials that one should always bring to the range. First, you should be sure to have a first aid kit available as accidents are a rare but legitimate possibility. It would also help a great deal to take a first aid course to learn a few potentially life-saving procedures. Ear and eye protection should also be included in this list of essentials because the last thing anyone wants is to go blind or deaf on a shooting range due to ricochets or hearing loud gun shots. Earplugs, earmuffs, and protective shooting glasses are the most important items for you.
Of course, you can never forget to bring your choice of ammo and magazines but there will be a lot of items to carry around as your equipment list piles up. This is where ammo cans and range bags come in handy. A range bag can provide additional space for mags, screwdrivers, gun cleaning accessories, and other helpful materials.
Range Barricades
Range barricades should be utilized on the range because they provide more realistic conditions for the shooter. Barricades also allow instructors to conduct a stronger assessment of a student's strengths and weaknesses. Tactical training is more advanced with this tool and improvements are mostly seen in accuracy, posture, and rifle positioning.
Kontek's Training Range Barricade is designed to be a cost-effective solution to provide strategic, safe, and realistic training for operators to replicate fire and movement from defensive positions in a light, rapid deployment package. You can either select from an existing catalog of designs or create your own custom barricade design with our team. Our multi-role training barricade, the Warfighter, is designed to fit a multitude of training profiles.
Training Walls
Training walls are good for operators to practice firing from gun ports, defensive fighting positions, and view ports. Training walls can help you practice body and weapon positioning much like range barricades and they are proven to be both safe and realistic. This tool can help prepare operators for a higher level of combat where threats may be more severe.
Kontek's Mobile-Modular Training Wall provides two modular sections for various tactical accessories. This tool is constructed from resilient polymers for rigid structure and designed to be safe for range training. Accessories such as sliding ports, hands-free ports, protected ball-ports, windows, and view ports can be swapped in minutes and it stows in a collapsible/folded position for easy storage when not in use. Our training wall is also capable of being outfitted with lighting systems for tactical low light and night time exercises.
Contact Kontek Industries
Kontek Industries specializes in tactical training and range solutions for DOD, nuclear facilities, law enforcement, and a wide range of other organizations. Our custom fabricated solutions are designed to provide a safe and relevant training solution for your employees. We can provide cost-effective training tools that require minimal preventative maintenance while enhancing the instruction of proper firing techniques from static and/or mobile defensive positions. Tactical training instructors will have more flexibility on the range and an increased variety of training scenarios in a shortened time and with a smaller footprint.
Contact the office at Kontek Industries today to discuss your tactical training needs.